2) The Virtual Cubicle - Manipulating desktop images.
So once I showed people how to save an image as their desktop, the next question that arose was, how do I make it fit? There are three options when you have an image, you can tile it, stretch it, or set it in the center of the desktop.
1. Right click anywhere on your desktop and when the menu pops up select "Properties".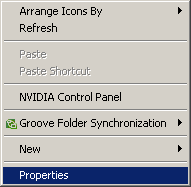 This will open another menu.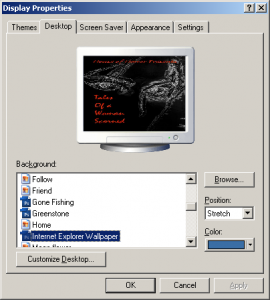 2. Select the tab "Desktop" by left clicking on it. Notice how it has selected "internet Explorer Wallpaper" by default. That should be the image that you saved in the last blog.
3. On the right hand side of the menu is a drop down sub-menu called "Position". From this menu select "Tile", "Stretch" or "Center". Once a selection is made choose "Apply" to see how it looks. This leaves the menu open in case another setting is desired. Once it looks good choose "OK" to close the "Display